We have another police situation, now from Kenosha, Wisconsin, where the recurring psyop themes of police yokelism is combined with black moronic behavior to bring about a bad outcome. And where — outside of cartoon world — is it necessary to empty one's weapon of seven shots? Why didn't the police grab or tackle Jacob Blake? Blake is walking to his car, but the police have lead feet.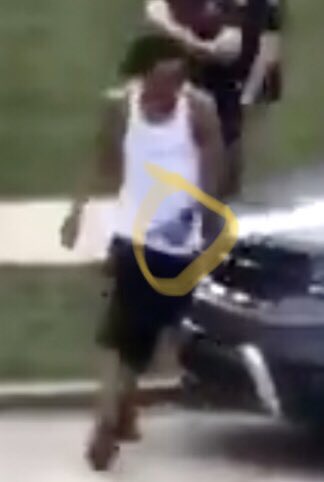 Reports claim his children were in the car and saw daddy shot seven times by police at close range — and yet he lives on. What are the odds? Will he be sitting in studio with Oprah in two weeks a la Jesus Campos?
It could well be that Blake, who has a history of gunslinging, was going for a weapon. But wouldn't you know it, Kenosha can't afford police body cams to verify. How convenient. How many accounts have we written about in which body cams and surveillance video is missing in action? Of course, there's always the ever-present, short, poor-quality, cell phone video from "a bystander." Why didn't he continue filming after the shots were fired?
And what convenient timing, the evening before Trump's RNC acceptance speech and the kickoff of the Republican convention. Remember, the mantra has been "win Wisconsin, win the election."
The scene looks scripted, like low-budget theater performed for low-IQ 12 year olds living in the land of Idiocracy. And what's with all the hokey hysterical background yelling and screeching before the shooting- theatrics? At my age, I haven't just fallen off the cabbage truck, but tell me this: Is going ape shit when the police show up the new normal, or is that just in black communities? This, too, feels like contrived stagecraft to reinforce stereotypes of hysterical black behavior, non-stop.
Something is off about this event. This has the rancid smell of staged deception.
WARNING GRAPHIC ⚠️ Police in Kenosha, Wisconsin shoot an unarmed man in the back pic.twitter.com/ZPdixPNwJY

— Fifty Shades of Whey (@davenewworld_2) August 24, 2020
Here is the standard staged deception herky jerky view from the other side of the car. Yes, like in the event involving the drug fiend St. Floyd we get the proverbial footage from the other vantage point. Whodathunk? Police seem to be grappling with Blake to cuff him? Yet some how he springs loose and walks to the car. We can see the little kids being used as props, but from where is the dun of hysterical screeching coming from?
Here's a video of the shooting that happened in Kenosha, Wisconsin. This video shows the shooting of Jacob Blake from a different vantage point. pic.twitter.com/d2CYIis6Zm

— Ian Miles Cheong (@stillgray) August 24, 2020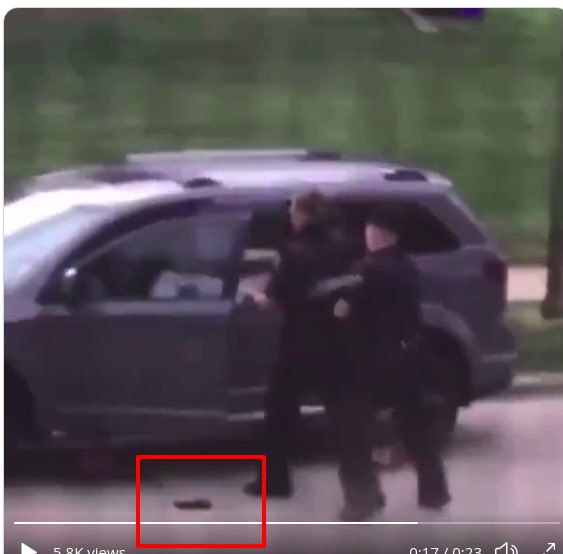 It remains to be seen if this kicks off renewed riots and looting at the national level. The brief clip of the incident has that potential, as it looks cold blooded, if one didn't consider the case background.
If this is to be taken at face value, we need to see ASAP body cam video and soon of the lead officer to determine if Blake was reaching for a weapon. Instead — like with Floyd — we predict this body cam is "not available" (a la American star chamber justice) for public scrutiny. If so, this would point to a staged deception in play.
Wisconsin's black Lt. Governor Mandela Barnes was immediately out instigating and WITHOUT GIVING IMPORTANT DETAILS concerning any weapons that Blake may have had in his possession.
"This wasn't bad police work, this felt like some sort of vendetta being taken out on a member of our community."

Wisconsin Lt. Gov. Mandela Barnes responds to last night's police shooting of Jacob Blake, a Black man in Kenosha, Wisconsin. https://t.co/T5b3P3Uqyb pic.twitter.com/nxXXfP2Uu6

— ABC News (@ABC) August 24, 2020
Wisconsin high school principal turned Democrat Gov. Tony Evers also quickly pandered to Black Lives Matter with an outrage-stoking social media post. He posted this while admitting "we don't have all the details yet". Well Governor, what's the big hangup, did Blake have a weapon on him? period!
Blake's Facebook cover image is a picture of pigs in police uniform, The National Pulse reports. What are the odds. And what's in the bottom left corner of the image? A map of where he'd be shot?
---
UPDATE ON JACOB BLAKE
Jacob Blake is not just a moron. He's another bad dude in the St. George Floyd mold. He also has warrants for domestic abuse and a sex assault. Good police know who the bad actors are in the community. Given Blake's history of being in this type of rodeo before, it is evident that the officer reacted to what was a potential threat.
According to a newspaper account in 2015, Racine police say a K9 Dozer had to help officers take Blake into custody when the man refused to go quietly into custody after he pulled a gun at a local bar.

RACINE COUNTY EYE — Jacob Blake, 24, of Racine, was charged Monday [Sept. 22, 2015] in Racine County Circuit Court with causing a soft tissue injury to a police officer and one misdemeanor count each of carrying a concealed weapon, carrying a firearm while intoxicated, endangering safety-use of a dangerous weapon, and disorderly conduct. If convicted, he will face up to 8-1/2 years in prison and/or up to $50,000 in fines.

According to the criminal complaint, Blake and two women were at the Brass Monkey tavern, 1436 Junction Avenue, Saturday when Blake got into an argument with another patron and pulled a black handgun. Blake pointed the gun at the other man, and the magazine fell to the floor. The bartender told Blake to leave, and he did but then pointed the gun through the window at patrons inside the bar before walking south on Junction Avenue.

Police say they encountered a woman walking on Junction who was in the bar with Blake, but she said she didn't know what happened and that her friends left without her in a silver SUV. A few moments later, officers were advised that a silver SUV was traveling north on Junction with a male subject driving who matched the description of Blake, and they initiated a traffic stop in the 1200 block of Racine Avenue.

Believing the driver was armed, police conducted a high risk traffic stop, the complaint reads, and ordered Blake to put his hands out the window of the vehicle. Instead, Blake exited the SUV and started walking toward officers and ignored commands to get down on the ground. Officers forced Blake to the ground and ordered him to put his hands behind his back. When Blake refused to comply, K9 Dozer was deployed to force the defendant into compliance.

While police were at the hospital with Blake so he could be treated for the wound he obtained from K9 Dozer, officers say he refused to answer questions, but he did submit to a legal blood draw to determine his level of intoxication. At the time he was taken into custody, Blake was searched and police say he had a holster on his hip but no gun. A subsequent search of the SUV turned up a black handgun on the floor behind the drivers seat. A box of ammunition was also found, and two loaded magazines were discovered in Blake's coat.

The defendant's blood alcohol level came back at .144, according to the criminal complaint.
The following arrest warrant was issued on July 7, 2020. Charges include criminal trespass, three counts of domestic abuse, felony sexual assault and disorderly conduct.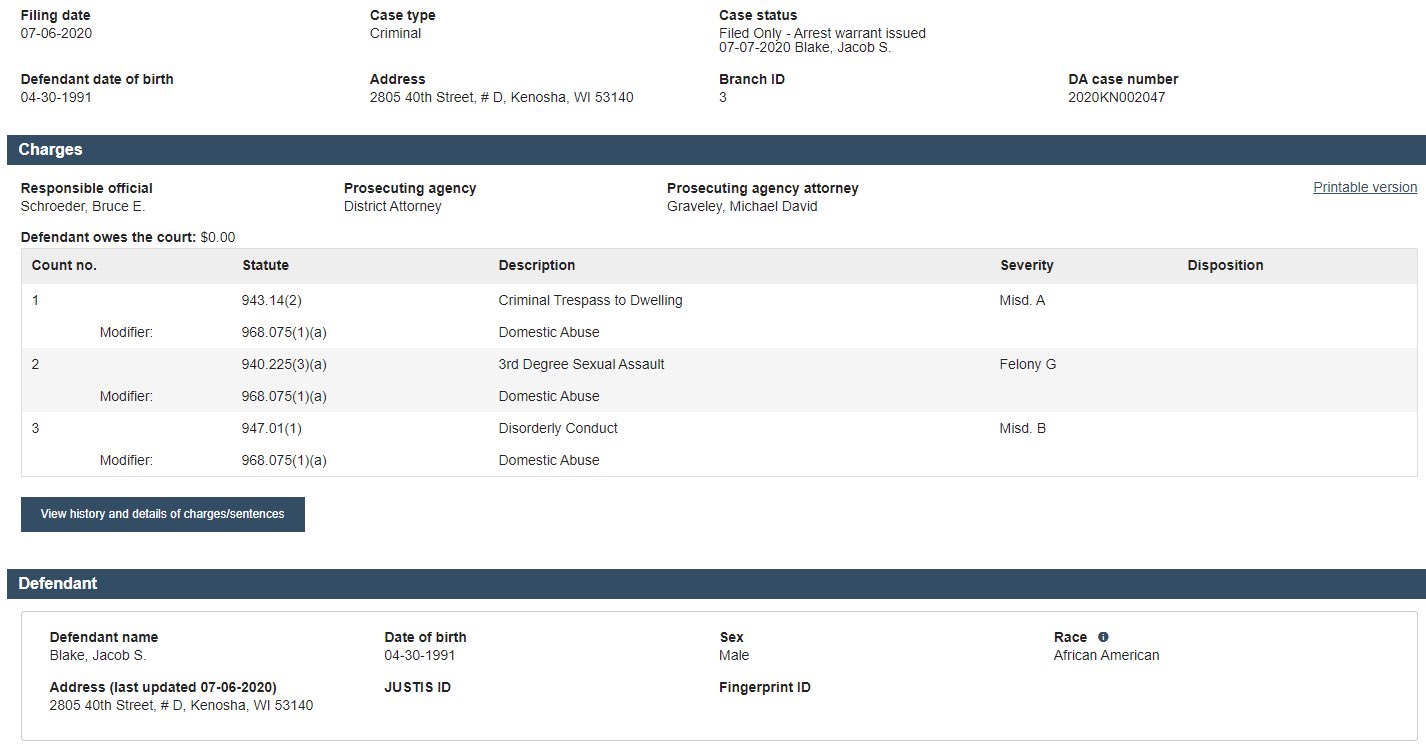 ---
BLAKE SHOOTING IGNITES RIOTS IN WISCONSIN AND ELSEWHERE
Right on cue, Black Lives Matter "protesters" and vandals waged war on the small business community of Kenosha. What a cowinkydink, here's a nice pile of broken concrete just waiting to be deployed. Breaking 911 compiled excellent coverage of the destruction.
Kenosha rioters discover pile of broken concrete to utilize as weapons pic.twitter.com/lQgsK7Xl0S

— Breaking911 (@Breaking911) August 24, 2020
A short time later, an officer gets "bricked."
Video appears to show police officer knocked unconscious after being struck in the head with a brick; Curfew declared in the city of #Kenosha after police shooting

— Breaking911 (@Breaking911) August 24, 2020
Arsonists lit cars on fire at a small local dealership.
Kenosha, Wisconsin

— Breaking911 (@Breaking911) August 24, 2020
Up close look at an entire car dealership set ablaze by BLM arsonists in Kenosha, Wisconsin overnight. pic.twitter.com/w6kz717VAG

Video via @livesmattershow

— Breaking911 (@Breaking911) August 24, 2020
Protesters with rifles and Sheriffs with tanks.
Demonstrators with rifles spotted in Kenosha, Wisconsin@livesmattershow

— Breaking911 (@Breaking911) August 24, 2020
Fire trucks positioned to protect local courthouse were set on fire.
This is the scene outside the Kenosha Court house – https://t.co/zXaozp8Pw3

— Breaking911 (@Breaking911) August 24, 2020
More mayhem last night as the governor calls in the National Guard.
DEVELOPING: Tensions rising in Kenosha, Wisconsin tonight as demonstrators & rioters face off with National Guard & police. The imposed curfew is being ignored.

Video via @ElijahSchaffer pic.twitter.com/eCJIuX6aq4

— Breaking911 (@Breaking911) August 25, 2020
Situation far from under control in #KenoshaUprising @ShelbyTalcott

— Breaking911 (@Breaking911) August 25, 2020
Armed business owners and citizens are attempting to stand guard against the mob.
Armed citizens attempt to guard local businesses in #Kenosha @DailyCaller

— Breaking911 (@Breaking911) August 25, 2020
In case you have trouble understanding what the shooting of a possibly armed man wanted for sexual assault and spouse abuse who was trying to flee from police has to do with burning down small businesses, here's a white teenage girl and a bun boy to explain it to you.
Rioters argue with business owner that burning down the city is okay because they "paid for that"

Video via @ShelbyTalcott

— Breaking911 (@Breaking911) August 25, 2020