Editor Note: We are getting a high percentage of comments under anonymous. This is understandable but the WordPress moderator system automatically puts these into the que for approval. I don't monitor 24/7 so it means delays before anonymous comments are cleared. I also can't put anon into the whitelist. Whitelisted participants with names, avatars, etc are good to go into comments without my constant need to monitor or approve.
---
With some fanfare the White House proclaimed that there would be scheduled four hour daily pauses to allow remaining civilians to flee northern Gaza.  But the US' ZOG boss and man calling the shots Netanyahu per usual begs to differ:
Netanyahu tells @BretBaier the combat pauses in Gaza will only be "a few hours here, a few hours there." https://t.co/f9V6aGaSGE

— Lucas Tomlinson (@LucasFoxNews) November 10, 2023
Yesterday the IDF held a press tour in north Gaza. At 01:10 the spokesman declared that anyone still in Gaza City will be treated as the enemy and all that this entails.
#UPDATE Palestinians said deadly salvos on Friday hit hospitals and a school where desperate civilians in Gaza City have sought refuge from intense combat that has sent many thousands fleeing.
➡️ https://t.co/gCOR72A7O1 pic.twitter.com/d4C2tLQn1Q

— AFP News Agency (@AFP) November 10, 2023
There is not much combat footage over the last twenty four hours. The IDF has re-framed their narrative as a "patient counter-insurgency operation". One by one neighborhoods are being razed to the ground. If you've been following our video reports you will see the liberal use of bulldozers.
There is an in your face effort to insult Muslims. Case in point was this missile hit on a mosque. I am sure Hezbollah, Iran, Syria, Iraq , Egypt and Turkey have gotten the word. The huge event along this line would be a black hand destruction of the al-Aqsa mosque in Jerusalem tipping the scale to all out regional war. Wouldn't put it past the more extreme Israeli elements.
Israeli combat aircraft destroy the Mosque of Khalid Bin Al Waleed and Khan Younis, in Gaza.

They are destroying an entire culture, an identity, as well as murdering the people. Genocide.

It's impossible to understand how the world cannot respond.

— Howard Beckett (@BeckettUnite) November 10, 2023
The IDF is still moving at a snail's pace and pushed a thousand meters up the coast from the south. IDF tried to push to the port, but were repelled. Accounts state that they were met with heavy mortar fire from Al-Qud units in this sector.
Up north the battle appears focused on a push towards Jabaliya and have captured and cleared several city blocks. Logically there may be small recons and probes in force, but these are met with ambush and hasty retreat.
The evacuation corridor is still 3 km east of these operations. The combat videos in the actual area of operations reveal a ghost town. New readers can review footage in our last three posts.
I can almost guarantee that an epidemic of cholera or God knows what will break out in Gaza. I am surprised it hasn't already. That would truly compound the pressure.
Masked Zio death squads are operating in Jenin on the West Bank. These are street level gun battles.
Occupation forces fire heavy live bullets at young men, medical staff, and journalists in Jenin . pic.twitter.com/NwrgEoL5Fl

— The Fact Finder (@FactualNarrator) November 9, 2023
An aspect of ethnic cleansing is the destruction of cultural icons and sites. Here we see the ever present Israeli bulldozer.
A crucial part of Genocide is the intentional destruction of cultural heritage. Here you see the destruction of every meaningful architecture in Jenin. pic.twitter.com/2riOoOM4zH

— 🕊 (@Mohnblume23) November 9, 2023
Activity in sectors in the rest of the Middle East are centered around attacks on US installations in Iraq and Syria. The Ain al Asad airbase is the most active.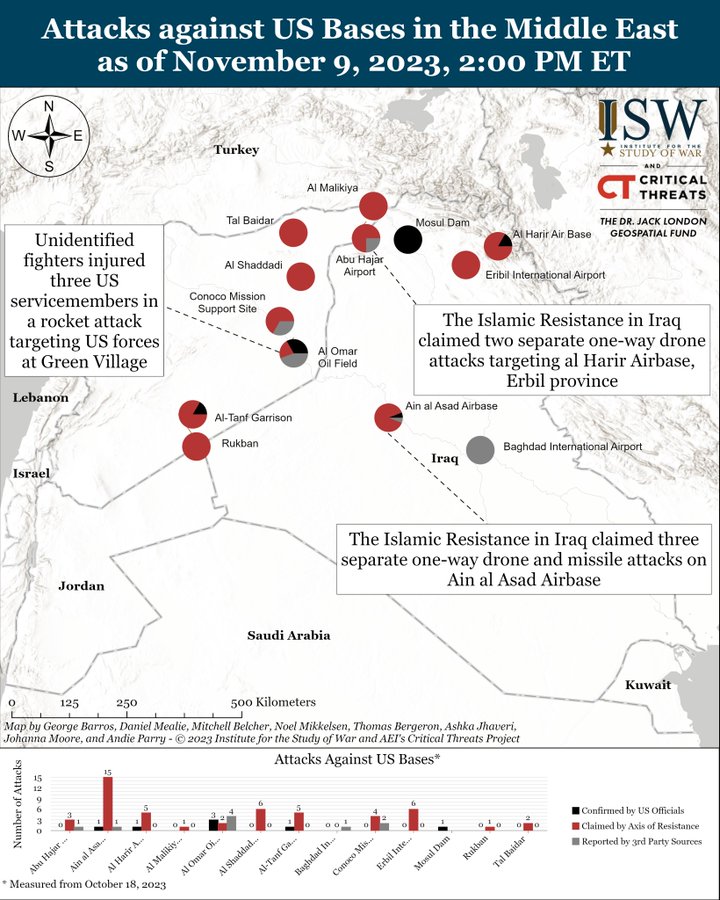 Hezbollah blasts military installation in northern Israel.
🚨 FOOTAGE: Hezbollah Targets Israeli Army Site at Metulla on Lebanese-Israeli Border, Resulting in
Casualties.

Source: Hezbollah TG https://t.co/HHKcqCQ5EU pic.twitter.com/X3xvso2Mio

— Mario Nawfal (@MarioNawfal) November 10, 2023
Hezbollah acquires Russian anti-ship missiles to combat US warships in Eastern Mediterranean.

Follow: @AFpost pic.twitter.com/1Buc7rQuPb

— AF Post (@AFpost) November 10, 2023
Perhaps with all the death by a thousand cuts developments the Israelis are gambling that only Hezbollah will enter a wider war and that the US will continue to bumble down it's own primrose path to a bad outcome. And that the state powers of Iran, Turkey, Syria, Iraq and Egypt will merely observe from a safe distance.
Have the "big brains" in the kakistocracy really gamed this out correctly? To my way of thinking the longer this drags out, the greater the risk for a pile on.