Even before it's ground offensive Israel has all but guaranteed a large regional war by leveling Gaza and engaging in collective punishment of non-combatants. Further these atrocities results in a more fanatical last stand resistance during the Israeli ground offensive.
The Ground Tactical Situation in Gaza
To listen to the war drum mongers on social media all the US has to do in a regional war involving Hezbollah, Syria and Iran is sit off shore and lob missiles. The wags think the US has an unlimited supply of expensive weapons of this nature. It is Sgt. Rock comic book warfare. In reality all the Navy has is quite limited and is designed for countering China and Russia.
The Department of the Navy in particular plans to invest in buying and upgrading a total of 830 of various types of Tomahawk missiles in the coming 2024 fiscal year, compared with the 552 Tomahawks that it procured for this fiscal year, according to the service's proposed budget.
If China invaded Taiwan, the U.S. military would need a lot of LRASMS to sink the Chinese invasion force. However, the missile is still being developed, so it is not ready for large weapons buys, a senior military official told reporters. The Navy plans to buy 125 SM-6 missiles in fiscal 2024  — the same number as it purchased this fiscal year  — is that the production line for the missiles has reached its maximum production capacity, a Navy spokesperson said.
Notice we are talking about hundreds of missiles- and depleting them on Hezbollah would be a huge strategic mistake. So in reality unless the US is prepared to send ground forces to fight on Hezbollah's home field, the options are limited.
What is Israel's preparedness to fight a regional war? Dependent on their political muscle is the answer. The "greatest ally" is asking for weapons from the US, including restocking Iron Dome interceptors.
🔥MASSIVE🔥

John Kirby admits that funding for Ukraine "is coming to the end of the rope".

It appears the US are diverting their funding away from Ukraine, and the Biden regime have quietly accepted that Ukraine is lost cause.

Looks like Israel was the off-ramp they needed. pic.twitter.com/F0sbnRDNkm

— Clandestine (@WarClandestine) October 11, 2023
The system uses artificial intelligence to determine if interceptors and rocket debris could endanger people or buildings and can recommend against firing. When Hezbollah launches a portion it's 100,000 precision guided missiles at densely populated Tel Aviv the deterred firing option becomes problematic.
Hezbollah will enter the war. Israel has promised to destroy Lebanon in a conflict with Hezbollah. This two front war- leveling Gaza and Lebanon will require substantially more weaponry. What does Israel do with their 300,000 troop force facing Gaza when the Hezbollah barrage opens up within hours of the ground offensive?
While at it, Israel bombs Syrian airports at Damascus and Aleppo.
Additionally the already overextended war parties have threatened to attack Iran if Hezbollah enters the war. This will ratchet the region up into total war. At the same time the sub-zeros running the US have severely run down the SPR.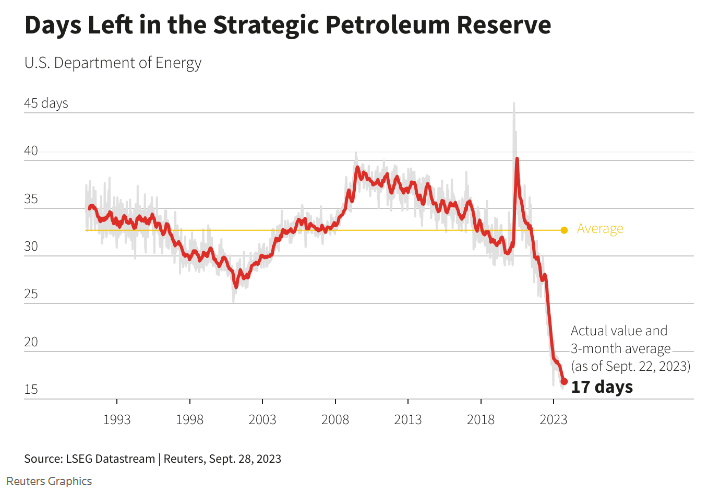 The Houthis have excellent asymmetrical warfare capabilities and would be a threat to Israel's southern front.
And how about Egypt- they are bankrupt and about to be nailed by a refugee crisis. As of today 338,000 Gazans are displaced. Israel in their hubris is sloppy in their military actions too, so Egypt may be hit by collateral damage and dragged in.
According to Politico, officials told lawmakers that the administration is weighing the use of some portion of the $100 million of presidential drawdown authority to send weapons from U.S. military stockpiles.
Drawing from existing U.S. stockpiles would undoubtedly place more stress on both the Pentagon and the defense industry, which have been hard-pressed to issue new contracts and increase production of certain munitions already sent to Ukraine.
The needs of the Israelis and Ukrainians are different in some key respects. Israel will rely heavily on precision air-to-ground munitions fired from F-16 and F-35 fighter jets and Apache helicopters, none of which is in the Ukrainian arsenal. The issue of 155mm artillery shells, which both countries rely on heavily, will likely loom large, however."
Remember when Ben Shapiro's Israel war policy was 'Israel can take care of herself?' pic.twitter.com/4A15lJnCc1

— Sam Parker 🇺🇲 (@SamParkerSenate) October 11, 2023