These are truly strange times in which we live. Sculptures of historic figures are being toppled while homosexual pornography is being promoted, and AirBnB is deleting the accounts of Alt-Right members while a baker in Colorado is preparing to face the U.S. Supreme Court to appeal his right not to make a wedding cake for a gay couple. We've reached peak hypocrisy.
To preface, it must be said that if one is truly an advocate for freedom of speech and expression, then one must painfully accept both the confederate sculptures and the homosexual pornography paraded as so-called "art." Similarly, one must also respect the right of AirBnB to refuse its services to Alt-Right members and allow the baker to decide for whom he will craft his cakes. Similarly, individuals should have the freedom to boycott and freedom to protest. But this is not the reality of today.
Today, we are dominated by the political hyperbole and histrionics of so-called "marginalized" groups asserting themselves as a privileged class through any channel necessary, from K Street to J Street and from Berkeley to Charlottesville.
To fully appreciate how egregious it was for AirBnB to cancel Charlottesville bookings and Alt-Right accounts, it's essential to understand how the service works.
AirBnB is a vacation rental website, similar to VRBO or even Craiglist, with a social-media style component and enhanced control of bookings. Basically, people who want to make money by renting their sofa, spare room or entire residence for just a night or even a month can post a fancy ad on AirBnB for free and become an AirBnB "host." Those looking for affordable accommodations can book through AirBnB by creating an account. The guest then creates a user profile and pays a small add-on fee for per booking.
Even before a booking occurs, both host and prospective guest can communicate with one another via email and ask questions about the accommodations, expectations, house rules, whatever. A host can refuse a booking, and both guest and host can cancel at any time. After the stay, both the guest and host post a review and rate their experience. This encourages hosts to be honest in their advertising and encourages guests to be on their good behavior.
It's important to note two things, especially when it comes to renting sofas and rooms: 1) Many AirBnB hosts are financially dependent on bookings as a way to make ends meet, and 2) many hosts and guests use AirBnB as a way to socialize. Socializing isn't required, but it's sort of expected — especially if you're crashing on someone's sofa. What's not expected: guests having guests over without permission, prostitution, parties and polarizing debates about religion or politics. (Of course, those who rent an entire residence have more latitude in terms of visitors, prostitution and parties, but that would be true of any rental service.)
AirBnB, for its part, is just a service — a Web-based platform — for the posting of ads and processing of payments.
Now, given these parameters, there was absolutely no reason for AirBnB to cancel the bookings of those it "researched" and "suspected" were going to be involved in the Charlottesville rally. If there was genuine concern that hosts might be subjected to undesirable guests, then the proper approach would have been to send out an email to hosts alerting them of the rally and of AirBnB's concerns, and let the host decide whether they wish to fulfill or cancel the booking.
Instead, AirBnB canceled the reservations and accounts of Alt-Right members. The following is an email AirBnB member Mark received when he inquired as to why his account was suddenly canceled.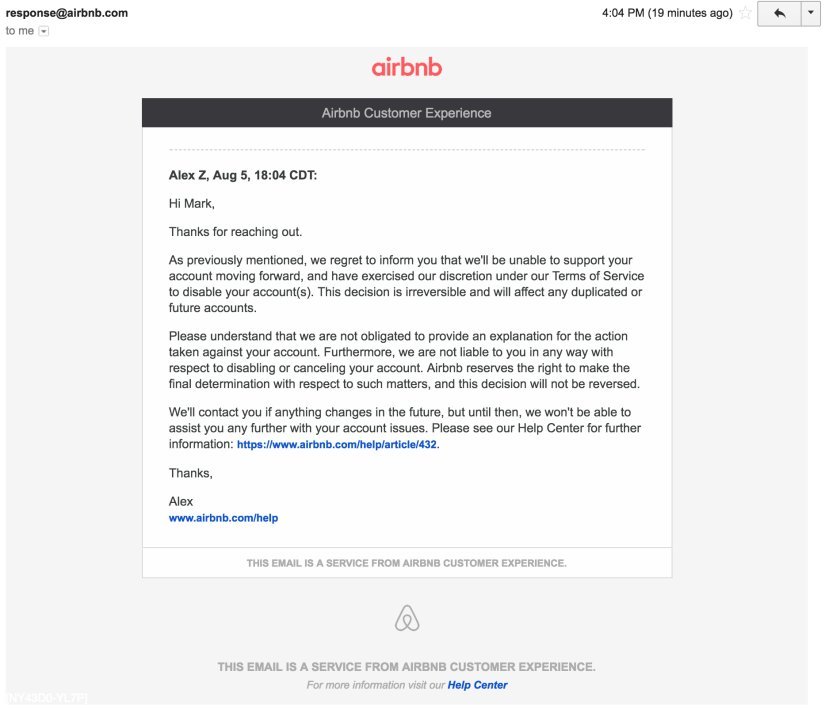 AirBnB did not cancel the accounts and reservations of anti-white Black Lives Matter activists, who are known for vandalism; or of notoriously violent Red Terror Anti-Fa, who can be seen in the following video tackling and beating an old man.
Make sure this video of Antifa beating an old man never hits the news. pic.twitter.com/8w4EcZJCD6

— Beverly Hills Antifa (@BevHillsAntifa) August 16, 2017
To the media, as an excuse for canceling reservations and revoking accounts, AirBnB touted its Orwellian "Community Commitment" contract, which an AirBnB user is required to agree to in order to create an account.
"In 2016 we established the Airbnb Community Commitment reflecting our belief that to make good on our mission of belonging, those who are members of the Airbnb community accept people regardless of their race, religion, national origin, ethnicity, disability, sex, gender identity, sexual orientation, or age. We asked all members of the Airbnb to affirmatively sign on to this commitment. When through our background check processes or from input of our community we identify and determine that there are those who would be pursuing behavior on the platform that would be antithetical to the Airbnb Community Commitment, we seek to take appropriate action including, as in this case, removing them from the platform."
It appears AirBnB reserves the right to discriminate against people based upon their personal views — whether it's supporting Confederate memorials, white rights, nationalism, populism or Trump — despite whether said persons act in accordance with prevailing laws, including civil rights and fair housing. Rather, AirBnB created a hypocritical rationale that failed to mask the prejudices and left-wing political biases of the company's top brass and smacks of the same rhetoric used by the radicalized left.
Who is AirBnB?
AirBnB is private American Internet company, operating internationally, with an estimated value of $10 billion. It was founded in 2008 by three Jewish-American Millennials — Brian Chesky, Joe Gebbia and Nathan Blecharczyk — who each have an estimated worth of more than $3 billion.
Last year, the company received criticism for allowing adverts for rooms and rentals within illegal Israeli settlements in West Bank. According to news reports, AirBnB in the U.K. and Sweden is becoming increasingly associated with human trafficking, brothels and pop-up sex dens. In January, the company offered free housing to refugees and any others not allowed into the United States. And there are countless stories of how AirBnB organized the operation of illegal sublets.
AirBnB makes large political donations exclusively to Democrat committees and organizations.
In D.C., it currently employs two lobbying firms, one of which is the Podesta Group, owned by infamous brothers Tony and John Podesta.
Podesta Group has been criticized for representing a lot of international human rights abusers.
Will Alt-Right Sue AirBnB?
"Unite the Right" rally organizer Jason Kessler believes Airbnb's cancellation of Charlottesville bookings and deletion of Alt-Right accounts could be cause for legal action because it unfairly targeted white customers, the Washington Examiner reports.
"This is outrageous and should be grounds for a lawsuit," organizer Jason Kessler told The Washington Post. "It's the racial targeting of white people for their ethnic advocacy." Kessler added the rally "is opposed to the historical and demographic displacement of white people. Would Airbnb cancel the service of black nationalists or Black Lives Matter activists for their social media activity? Of course not!" …

"This is an event which seeks to unify the right-wing against a totalitarian Communist crackdown, to speak out against displacement level immigration policies in the United States and Europe and to affirm the right of southerners and white people to organize for their interests just like any other group is able to do, free of persecution," Unite the Right said in a Facebook post promoting the event.
TNN Verdict
We recommend boycotting AirBnB and any other business that discriminates against law-abiding white people for expressing pro-white/Anglo-European views. There are plenty.
Flowers for Dreams, a Chicago-based flower shop, won't let customers order flowers unless they "condemn racism, Nazism, and white nationalism."
Uber says it will continue to ban Nazis and white supremacists from its platform, again touting "Community Guidelines." Really? What does this mean exactly? Are hooded KKK members using Uber to get to crosstown cross burnings, or is anyone wearing a "Make America Great Again" hat now considered a white supremacist/Nazi?
uber letter sent to drivers and employees re: nazis pic.twitter.com/1GpG3O0yUj

— ಠ_ಠ (@MikeIsaac) August 17, 2017
But perhaps one of the worst was OKCupid, which violated its privacy and slandered a customer by identifying him and calling him a white supremacist. The site is asking its members to report other OKCupid members who belong to "hate groups."
We were alerted that white supremacist Chris Cantwell was on OkCupid. Within 10 minutes we banned him for life.

— OkCupid (@okcupid) August 17, 2017
Other companies jumping on board the "hate the hater" bandwagon include Pay Pal, Discover, Stripe and Apple Pay.
"The more aggressive stance is being applauded by the Southern Poverty Law Center, which monitors the activities of hate groups and has pressed Silicon Valley to take action," USA Today reports. Surprise surprise.