Bryan Kohberger, 28 has been arrested for the murders of three women and a houseguest at an Idaho university apartment in Moscow, Idaho. The victims were all young attractive college students. This crime has received wide coverage in both the media as well as social media sleuthing, and there are numerous videos on You Tube. Not going to detail much of the crime itself as the reader in this case can refer to numerous references.
There is considerable high strangeness in this case, and the probable cause affidavit won't be released until the suspect is arraigned. I will develop this post further as the case progresses as it is one I will track.
What stands out about the case is that Bryan Kohberger just completed his first semester as a criminal justice/ criminology PhD student at Washington State University in Pullman. Pullman is located eight miles from the Moscow crime scene.  He was also listed in the WSU fall course catalog as assistant instructor for three undergraduate criminal justice courses that ended on 12/9.
His two sisters are mental health workers.
After the semester ended his father drove with him from Pullman to Pennsylvania.
Regardless of his background and knowledge of committing the perfect crime he made several mistakes that led to his apprehension.
Kohberger's DNA has been matched via genealogical DNA material recovered at the off-campus house where the students were stabbed to death around 3 am, according to the sources. It appears Kohberger left his DNA behind. DNA is playing a role in making these kinds of serial crimes solvable. Police searched his apartment in Pullman yesterday.
He was tracked in Pennsylvania for the last 4 days and was apprehended at 3 am. at his parent's home on Dec. 30 and was in possession of a white Hyundai Elantra seen on video speeding by a gas station near the house of the murdered students. Car was registered in his mom's name who lived in Pennsylvania. 
One would assume that more surveillance images of the Hyundai are available from other cameras between Pullman and Moscow and will be revealed in the prosecutor's case. The vehicle details were released to the public, so it seems odd that he went free in a nearby town for 47 days after the slayings? 
Unfortunately there is a access spot above the crime scene house that seemed ready made for stalking, concealment and escape. This is a good theory on this.
When arrested he took a page out of John Wayne Gacy and asked if anyone else was in custody.
Curiously Kohberger looks like a composite between, American Psycho, Ted Bundy, with shades of Mickey from Scream 2.
He previously worked as a rent-a-cop at a local high school.
Friends indicate that he was a heroin abuser at different times although may have been clean when the murders were committed. According to profiler John Kelly heroin would have sedated him and is rarely associated with mass or serial killers. Going off of heroin however may have contributed to the mental state necessary to commit this grisly murder.
A former school friend told the Daily Beast Kohberger started boxing in his senior year of high school.  "He always wanted to fight somebody, he was bullying people. We started cutting him off from our friend group because he was 100 percent a different person," Nick Mcloughlin told the outlet.
He was described as a radical vegan. Inquiring minds wonder- how did he maintain the high testosterone necessary for this act?
Two of the victims Xana Kernodle and Madison Mogen were employed at a Moscow Greek restaurant. Is this where Kohberger crossed their paths? Then because of their hyper active social media accounts he was able to stalk them online. Once he identified where they lived he likely set op an observation nest in the sheltered parking lot about the house as shown in the YT video above. He probably determined that they didn't lock or secure entry doors.
He went to class in the days after the killings, and fellow students said he was typically talkative but was quiet and deadpan when the Idaho 4 murders were discussed.
Indications that he was literally studying how to be a serial killer- took classes which basically gave him all the insight he though he needed. But he was wrong and his grandiosity was his downfall.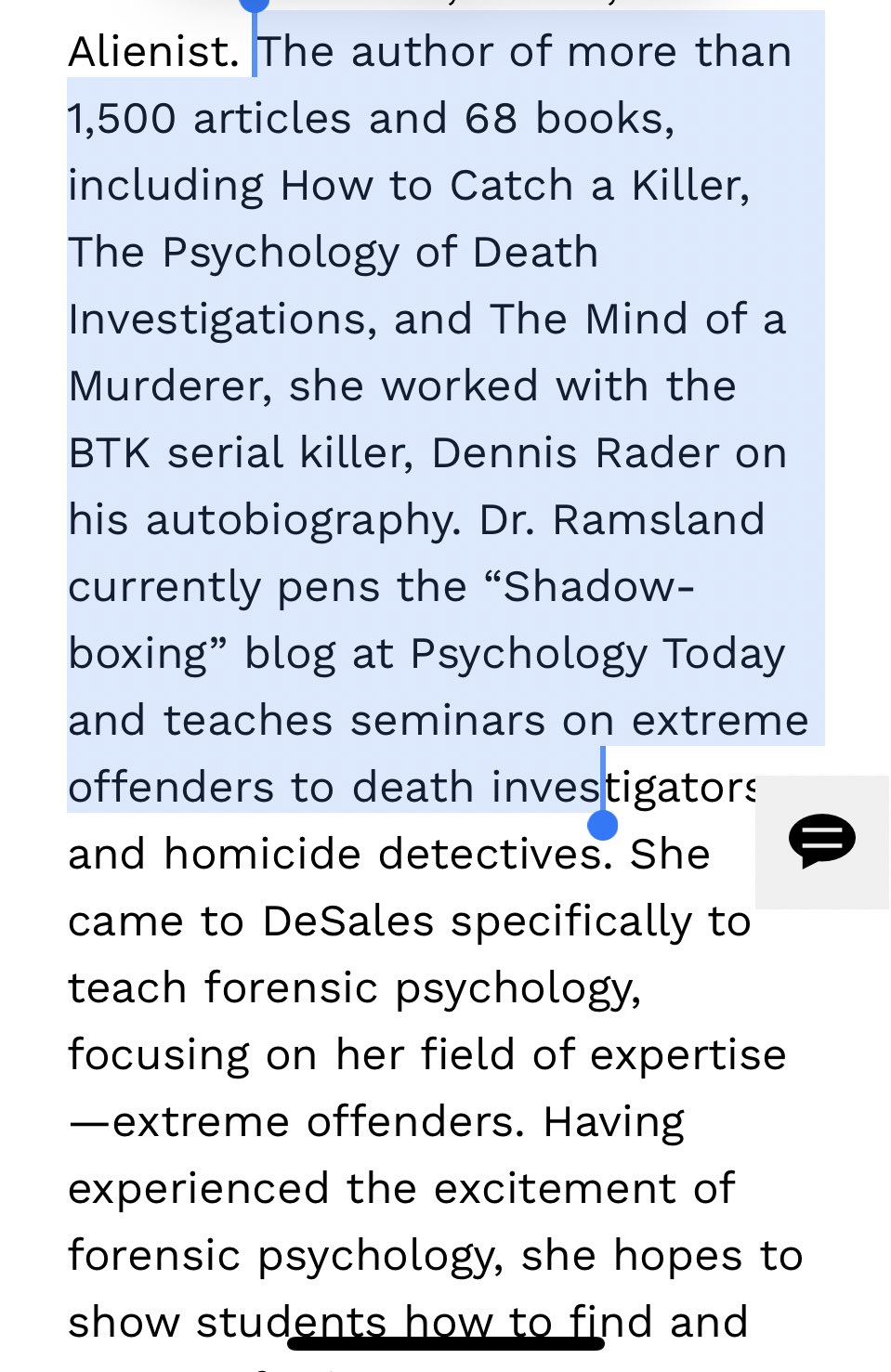 His DeSales (master's program) email was tied to a cryptic Reddit post about a study "seeking to understand how emotions and psychological traits influence decision-making when committing a crime." The questions at least to my eye are very odd. But they illustrate that targeting was a key ingredient. There is every indication that the victims were targeted in some manner. The details of that should come out.
Looking like he ended up conducting his own high strangeness experiment to determine what inflicting such mayhem "felt like". There is a long history of criminal acts similar to this, it is nothing new among dark triads. It is straight out of Fyodor Dostoevsky's Crime and Punishment. Now Kohberger can spend the next twelve years or so imagining what death by lethal injection on a gurney would feel like.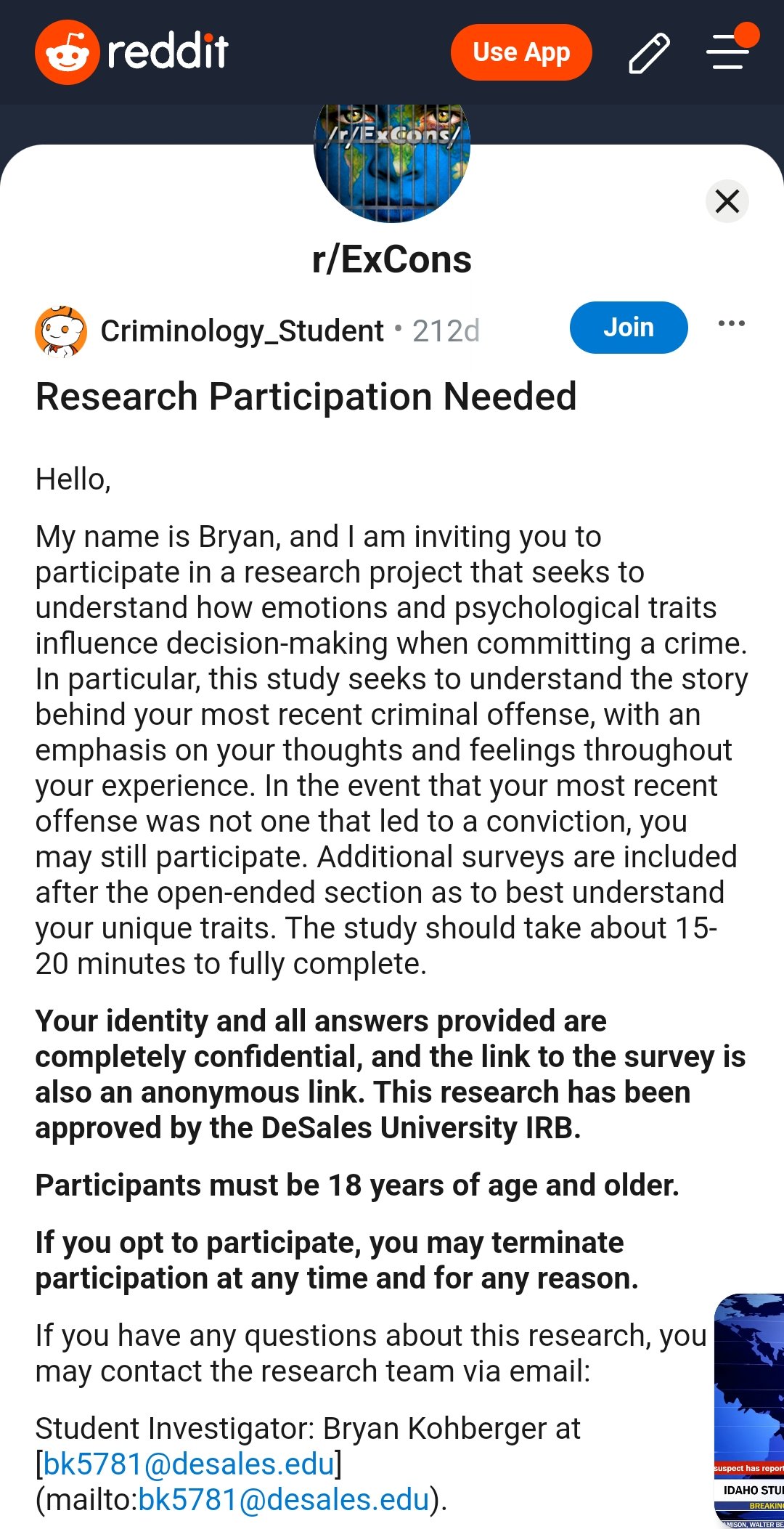 There is a pattern of criminals like this inserting themselves into the investigation and the social media storm. It is difficult to imagine this not being in play here.
Bryan C. Kohlberger called into a Youtube livestream and tried to draw attention to frat guys. Original call 4:49:24 #IdahoStudentsSuspect #IdahoFour #Idaho4 #MoscowPoliceDepartment #moscowhomicide #idahohomicide
pic.twitter.com/v9IIDxNbfq

— CryptLord 3D (@Iceman_1226) December 30, 2022
People who knew Kohberger are speculating that the voice is him. Once the public can hear his voice then voice analysis can be conducted to answer that question.
Friend of #BryanKohberger says that she believes it is him on the podcast but it is not Bryan on the viral TikTok. #idahohomicide #Idaho4 pic.twitter.com/DfDKu2T8O7

— Erika (@ameriKa_lynne) January 1, 2023
Is it possible that this case will cause pajama people to stop posting EVERYTHING about their lives, including the layout of their homes?
Friend of the victims indicates the front door key lock was deactivated. Geez, I want the world to be safe so let's pretend it is.
Update: The perp entered via an unlocked sliding door at rear of house.