In Kenosha, Wisconsin, 17-year-old Kyle Rittenhouse was protecting the business of a friend with an assault rifle. It is remarkable that after months of indiscriminate rioting, looting and burning, a serious incident took this long to occur. Rittenhouse will be the cause célebre that takes the conversation to the different level. The notion that Antifa are normal protesters will be put to rest by the pajama people.
Consistent with Star Chamber justice system in the U.S., Rittenhouse has been charged with first degree murder.
He was initially attacked by one Joseph Rosenbaum, 36, a man with a death wish, who was shot dead while trying to take Rittenhouse's gun. An eyewitness described what transpired. The eyewitness stated that Rosenbaum pursued and confronted 17-year-old Rittenhouse before grabbing at Rittenhouse's weapon.
Here is jazzed up Rosenbaum's zombie behavior earlier in the evening.
Video has emerged that shows the mad dog Rosenbaum pursuing, throwing something and rushing up on the armed Rittenhouse, who can be seen at about 14-15 seconds in this video dispatching the crazy. It is best seen on the right panel.
Rosenbaum spent the last couple of decades in and out of jail for sex crimes involving minors in Arizona. His first bust in 2002 earned him a 12-year sentence. Looks like he was just recently released from his third incarceration.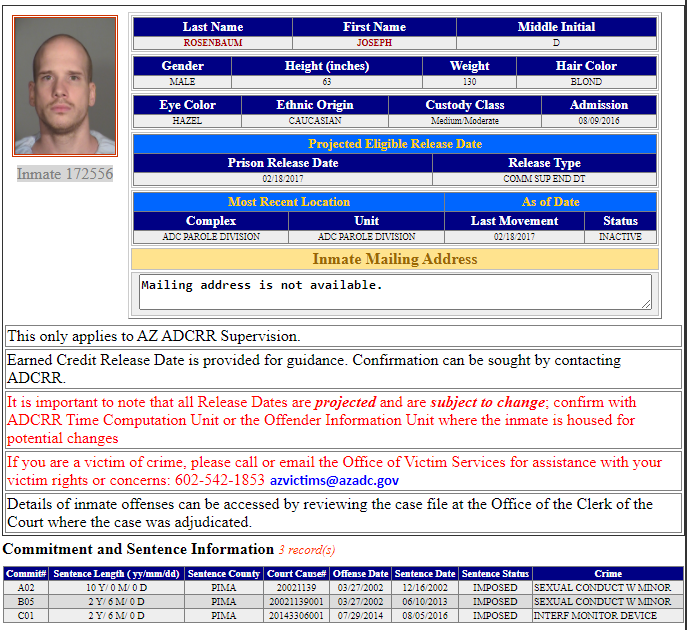 While incarcerated, he committed over 40 prison violations including assault, arson, narcotics possession and assault with a weapon.
It's worth noting that Rosenbaum was on the sex offender registry for the state of Wisconsin as of Wednesday. But as of Friday night, his sex offender registration record has been scrubbed. Fortunately, intrepid reporter Andy Ngo got a screen shot. You can see that his lifelong mandatory registration began in 2017, and his status is "non-compliant."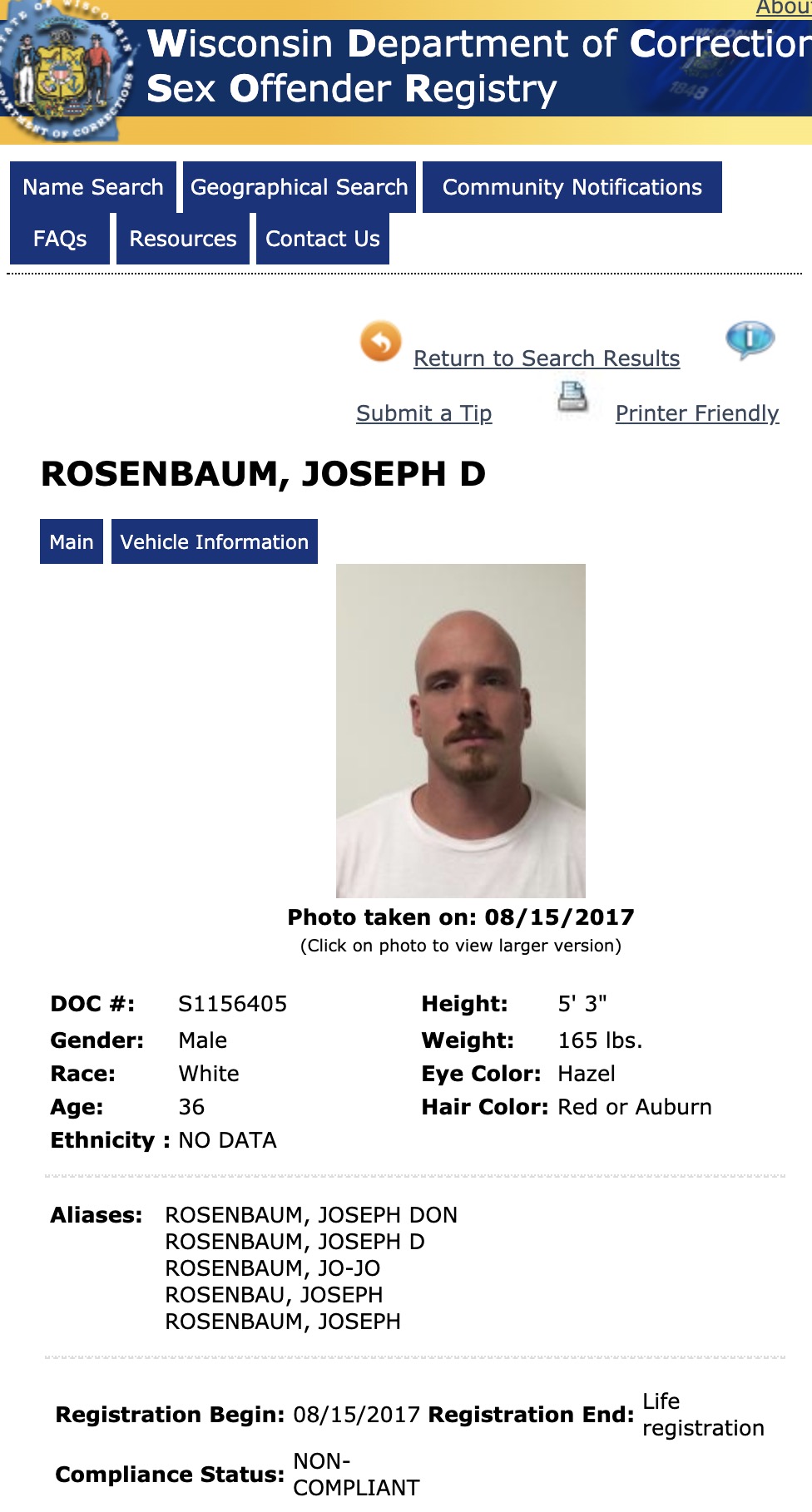 Reports initially said Rosenbaum was killed by a shot to his head. The county medical examiner later announced this was not the case. He took rounds to his hand and groin. Death by an AR-15 round to the crotch. What an ironically fitting end for a child sex convict.
Further down this page is a video clip of what went down next. And the last video is in slow motion to condense this further.
Rittenhouse is carrying a weapon as he runs down the road, but you can hear rounds going off all around. Rittenhouse is being pursued by various men. The serious trouble didn't ensue until Rittenhouse stumbled and went to the pavement at 00:00:26.
You can hear someone yell "get him!" as the Antifa goons moved in. The first goon backs away when Rittenhouse points his weapon, but the others are after blood. Rittenhouse fires two rounds at the light-panted man who is drop kicking him, and apparently missed. This man takes off.
The others must have been on meth or something as they show little fear. This is a case study in social Darwinism. Despite the fact they could have easily calculated that Rittenhouse would defend himself, several more decided to rush and grab at Rittenhouse's weapon rather than beat a retreat. Perhaps because he's young, not very tall and a little chunky, they figured he'd be an easy target to beat down and overcome.
Rittenhouse is reacting with men right on him. He shoots the skateboarder, Anthony Huber, in the heart, killing him after being battered with the skateboard.
Beavis Learns an Important Life Lesson a Day Too Late: Never Bring a Skateboard to a Gun Fight
Huber's criminal history includes charges of battery and repeat domestic abuse.
Gaige Grosskruetz is next to try and overrun Rittenhouse. Grosskruetz has a handgun in his right hand and is coming for Rittenhouse, but Rittenhouse wounds him in the right bicep, which decidedly ended that quick-draw showdown.
Here is a potential assassin learning a lesson about self-defense, the Second Amendment, and what real courage looks like. pic.twitter.com/NhtaHSBJKI

— James Woods (@RealJamesWoods) August 27, 2020
 2nd Place in the 1st Annual Kenosha Quick Draw Competition
A friend of Grosskruetz said Gaige regrets not being able to kill the teen.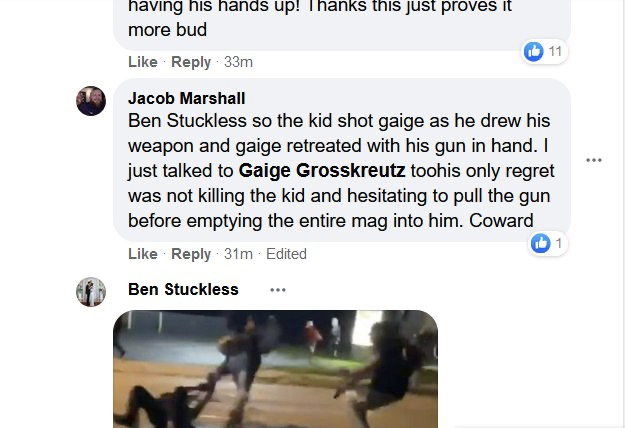 The following video is an excellent breakdown and analysis of the event from legal point of view.
After the showdown, Rittenhouse walked backward, weapon at the ready, until he encountered police down the block.
Slow motion of Rittenhouse's position as he's being overrun by rioter goons.
This as close and slow as you're gonna find I think.

Skateboard guy attacks and gets shot. Guy approaching with hand gun out gets shot.

Self defense. pic.twitter.com/jDi987NAsF

— Jack Murphy 🇺🇸 (@jackmurphylive) August 26, 2020
The Washington Post aka Compost ran this fake new narrative, describing Rittenhouse as "firing into the crowd" and referring to the mob of felons as "protesters." You would think WaPo would be a little more careful about how it characterizes the actions of underage white males, especially considering they're being sued for millions for slandering Sandmann last year in D.C. And the same attorney that represented Sandmann has offered to defend Rittenhouse pro bono.
And if that doesn't take the cake …
The makeup of this mob led to several observations and prompted a couple of questions: Are felon offenders not supposed to be on probation, and how is it that a Joseph Rosenbaum and the others with criminal backgrounds can travel about freely and engage in mayhem?
Nothing about this group appeared to be organic. How do hardcore Antifa criminals such as Rosenbaum et al support themselves and travel about? There are discordian forces who want to take the U.S. down, collapse it into chaos and turmoil. And it's not just from one fonte. There could be many, including BLM.
Here's how the Lugenpresse is spinning these crazies.
Anthony Huber, 26. Joseph Rosenbaum, 36.

The Kenosha shooting victims are identified and remembered as "sweet," "loving" guys, both against violence and vandalism.

A local business owner said the 3 activists were known in town as peaceful demonstrators.https://t.co/jHIMUPf7Rd

— New York Daily News (@NYDailyNews) August 27, 2020